TLI Series industrial grade rechargeable Li-ion cells are ideal for energy harvesting
Energy harvesting devices are typically utilized in remote wireless applications where average current is high enough to prematurely exhaust a primary (non-rechargeable) cell. These applications require the use of a rechargeable lithium-ion (Li-ion) battery working in tandem with the energy harvesting device to store the harvested energy. 
Standard rechargeable lithium-ion cells are typically well-suited for consumer applications, but have inherent drawbacks for industrial applications, including short operating life (maximum 5 years), low maximum cycle life (500 cycles), high annual self-discharge (up to 60% per year), an inability to deliver high pulses, and a limited temperature range (0°C to 60°C) with no possibility of charging at low and high temperatures.
By contrast, industrial grade TLI Series rechargeable Li-ion batteries deliver reliable, long-life performance in extreme environmental conditions, featuring longer operating life (20 years), up to 10 times more life cycles (5,000 full cycles), a wider operating temperature range (-40°C to 85°C, with storage up to 90°C), the ability to deliver high current pulses (up to 5A for AA cell), a low annual self-discharge rate (less than 5%), and the ability to be charged and discharged at extreme temperatures. A specially modified version is also available for medical applications requiring high temperature autoclave sterilization at up to 125°C.
Available in AA and AAA cylindrical cells and custom battery packs, TLI Series industrial grade Li-ion batteries provide a rugged, long-term power supply that be recharged using DC power or with energy harvesting devices.
TLI Series batteries can also be utilized in combination with bobbin-type LiSOCl2 batteries to deliver back-up power solutions for energy harvesting applications. For example, in situations where a solar PV panel experiences extended periods without sunshine (i.e. polar winter or 5 consecutive days of cloudiness) an ideal solution may be to support the TLI Series rechargeable battery with a bobbin-type LiSOCl2 battery to reduce the size and cost of the solar PV panel and the rechargeable Li-ion batteries.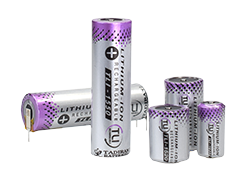 Key Features:
Longer operating life (20 years)

Up to 10 times more life cycles (5,000 full cycles)
Wider operating temperature (-40°C to 85°C, with storage up to 90°C)
Ability to deliver high current pulses (up to 5A for AA cell)
Low annual self-discharge rate (less than 5%)
Charging possible at extreme temperatures (-40°C to 85°C)
Glass-to-metal seal (others use crimped seals that may leak)
IPS wireless parking meters harvest energy through a miniaturized PV solar panel with TLI Series rechargeable Li-ion batteries, using the stored energy to power autonomous meters connected to the IIoT. These wireless devices enable more reliable and efficient billing, reporting, and help reduce pollution by alerting motorists of available parking spaces.
CattleWatch solar-powered 'smart collars' monitor herds of animals by creating wireless mesh networks, enabling ranchers to remotely manage livestock via an Iridium satellite connection to the IIoT. Industrial grade TLI Series batteries allow the 'smart collars' to be lighter, compact, and more comfortable.
Applications and most commonly chosen battery:
| Application | XOL & iXtra LiSOCl2 | PulsesPlus Hybrid LiSOCl2 | TLI Series Rechargeable Li-ion | TLM Series Lithium Metal Oxide |
| --- | --- | --- | --- | --- |
| Two-way communications | | | | |
| Remote monitoring | | | | |
| Asset Tracking | | | | |
| Animal Tracking | | | | |
| SCADA | | | | |
| Tank/flow monitoring | | | | |
| Actuation applications | | | | |
| Environmental monitoring | | | | |
| Infrastructure | | | | |
| Surgical power tools | | | | |
Let us know more about your application.
From research and design, to world class ISO 9001:2000 certified manufacturing and quality assurance, to a global sales and distribution network, Tadiran is ready to serve your needs with standard cells or custom battery packs.